I'm taking an online class called "Creating Memorable Characters" through Writer's Digest University  this term.  One of my classmates is doing a book of bio articles based on historical figures, and she explained that she was taking this class in order to learn "how to make them strut off the page, instead of standing in the wings while I recite their chronological history." Well, I obviously recommended that she check out Assassin's Creed!!!
Assassin's Creed is an action-adventure packed story world where players go back in time to inhabit real historical characters and accomplish things within real historical contexts. I believe it's a great example of how storyworld meets transmedia.
Behind every successful story world franchise, is a deliberately well-thought out narrative and an ambitious business model. Louis Pierre-Pharand, the head of Ubisoft Workshop and Brand Creative Director of Ubisoft's Montreal studio (the biggest video game studio in the world), recently revealed what makes the Assassin's Creed franchise such a profitable business model.
Brand Pillars
Historical Relevance: establishing a deep connection, Ubisoft retells its version of history
Coherent Mythology: battle between the order of the Assassins and the Templars
Community Engagement: 4 million (last count) on Facebook, fan art, fan fiction, fan videos)
Visual Edge: rocked the game world
Reinvention: sometimes Ubisoft delays game releases to ensure quality
Transmedia, according to Ubisoft/Pharand, is a storytelling world-building technique that results in a coordinated multi-platform brand.  Each platform is a stand-alone narrative endeavour connected to the universe.
Note: Transmedia the buzzword is not re-inventing storytelling.
It is about creating new points of entry into the brand by creating original, stand-alone, yet connected narrative products — for example, for the comic books of Assassin's Creed, they went around and interviewed two artists who were also writers, to produce in-house. Given a lot of creative freedom, these artists created Nikolai Orelov, … and this became an immensely profitable project which garnered great reviews.
In Assassin's Creed, there's a universe, characters, plots… Pharand says of the story world, "Give everything a purpose."  The creators were always planting seeds, but everything they create has to have a purpose… and needs to be part of the Assassin's Creed canon.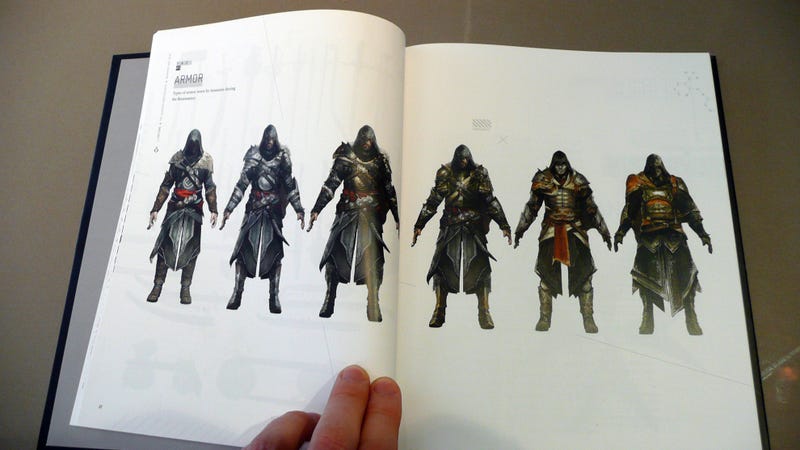 Thinking ahead by planting seeds or opening brand gateways falls to the brand content directors, a.k.a. "puzzle makers" of Assassin's Creed. If you look at all the narrative products under the brand since 2007, 14 titles have been developed spanning the Third Crusade, the Renaissance, and the Colonial Era for use on consoles, computers, handhelds, mobiles, wii. The franchise also includes about 5-6 books, a bunch of comics, and multiple film shorts and animations. (And now a movie!)
Michael Fassbender (Prometheus, Jane Eyre, X-Men) has been cast as a "hooded figure" in the upcoming movie for Assassin's Creed. This is, last I checked, the biggest video game franchise at the moment, played by over 55 million fans worldwide (if unit sales are anything to go by). Scott Frank, the Oscar-nominated writer of Out of Sight, Minority Report, and the Wolverine, has been tasked to adapt the bestselling video game to script. And the Bourne series' Frank Marshall (Back to the Future, Seabiscuit, Snow Falling on Cedars, Indiana Jones)  is also on board to produce this movie for New Regency.
Ubisoft constantly tries to push the technical convergence of its different narrative brand products. This Youtube video, Assassin's Creed Embers, is a demonstration of how a chapter in a video game series, with all of its environments and characters, became a low-cost movie.
Ubisoft respects its brand and its fans – 4 years working on a brand forced them to have all the documents necessary to build an encyclopedia because all of a sudden, the storyworld grew so large that the players knew the games better than the developers!! They had to hire 2 of 250 applicants from a community of good writers who knew the installments well enough to write an encyclopedia to keep track of the Assassin's Creed mythology…. they made mistakes, and fixed them. One day the brand just grew too large.  You never want to get caught with that when a brand grows. Writing a canon is a great exercise. Pharand urges us to write everything down.
Finally, Pharand notes that we should always run tests on all audiences — this is crucial because fans give great feedback.
This is the latest project Ubisoft is working on: The Mighty Quest for Epic Loot. It's a look at the Monty Python movies with a tongue-in-cheek approach.